How to make a silver casting mold
In this article, We will discuss the whole process of jewelry mold making for casting only, which is divided into two smaller parts: master molds and rubber molds, and when a mold is finished, the next step is lost wax casting, which we will discuss in the next article.
We will talk about the mold making process for stamping further, the process that is a bit more complex and much more expensive.
Please see the chart below to comprehend our workflow.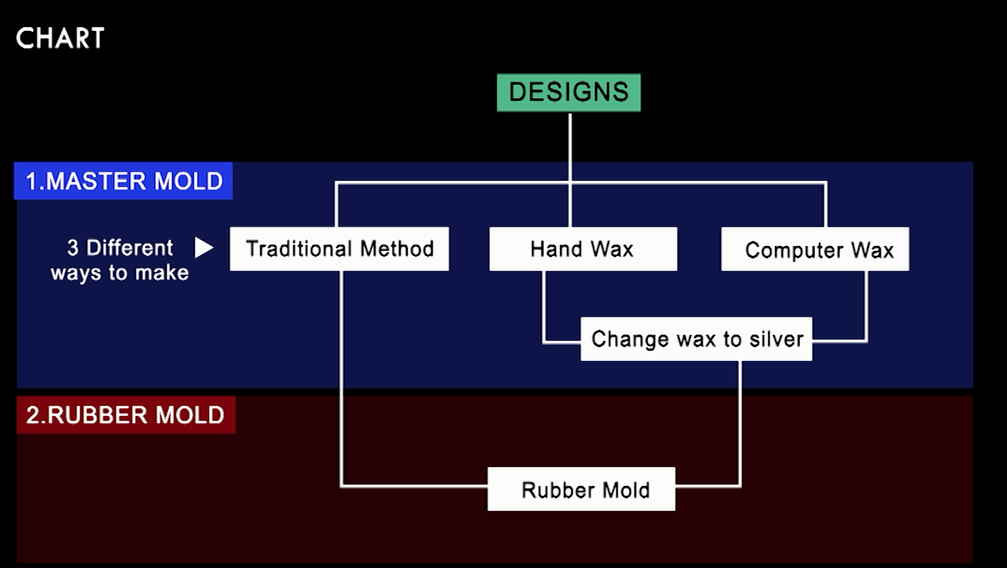 Master Molds
Currently, in order to provide flexibility as much as possible to customers, we offer three primary ways to make master molds for jewelry: traditional, hand-wax, and computer (3D CAD). Each method has different advantages and drawbacks and is suitable for different styles of works. 
1. Traditional Method.
Known as an antique method, the traditional process directly tackles metal to form master molds. Firstly, molten metal is made. After that, it is cooled down to form a silver rod. Next, the rod is rolled to be a thinner sheet before being cut following the layout. Therefore, this technique, considered less time-consuming and cost-saving, fits any sheet works.  
2. Hand-wax Method.
Many wax models are created by hand because many unique artistic patterns are difficult to be done by computers, such as the movement of elegant running horses. The handmade method is processed by talented craftsmen, who are increasingly becoming rare nowadays. Beyond an artistic skill, a man needs to be accurate and delicate to be qualified as a wax molder. 
3. Computer or 3D CAD.
After a designer draws 3D files, we can either print or CNC to create the pieces.
Customer's 3D files are also welcome, as we can undertake various types of 3D files.
Because it is the most popular process these days, 3D craftsmen are pervasive. 
The suitable designs for this method are the ones with multiple gemstones required to be equal in size.
...
Therefore, to consider the proper method for making master molds, a production controller needs to take time, budget, and product attributes into account.
Please see the table below to compare the pros, cons, and suitability of each method.
Please see the pictures and video below to understand how we make master molds for you.
Master Molds
The first step of mold making is to make master molds.
Please see the video below to discover how we can produce master molds.
Rubber Molds
After master molds are done, they are used to make rubber molds further.
Please see the video below to discover how we can produce rubber molds.